Regional representative
Univ. Prof. Dr. Martin Knoll
University of Salzburg
History Department
Rudolfskai 42
5020 Salzburg
Austria
martin.knoll@sbg.ac.at
Job announcements
Full Professorship for Economic, Social, and Environmental History, University of Freiburg, Germany, Deadline for applications: 06.07.2018.
Grants
Training
Events
past
Tagungsbericht: DissertantInnnentagung zur Wirtschafts-, Sozial- und Umweltgeschichte, Linz 01.03.-02.03.2018
Tagungsbericht: Urban Society and Environmental Change in Small and Mid-size Cities, ca. 1700-1900
upcoming
Berlin Brandenburger Colloquium für Umweltgeschichte – Programm Sommersemester 2018
Was macht eigentlich…?
…das Zentrum für Umweltgeschichte, Wien? Einen aktuellen Bericht über die Arbeit des Zentrums und über das Studium der Umweltgeschichte in Wien finden Sie hier.
News
EHCA nimmt Fahrt auf. "Environmental History Cluster Austria/Netzwerk Umweltgeschichte Österreich (EHCA)" ist zwischenzeitlich als Verein registriert. Nähere Infos: www.ehca.at.
Von 15.02.2017 bis 19.08.2018: Ausstellung "Energy Transitions / Energie.Wenden" am Deutschen Museum München. Die Ausstellung wurde in Zusammenarbeit zwischen Rachel Carson Center und Deutschem Museum konzipiert.
Verena Winiwarter Präsidentin des Internationalen Dachverbands der Umweltgeschichtegesellschaften: Am ersten April wurde Verena Winiwarter zur Päsidentin des International Consortium of Environmental History Organisations (ICEHO) gewählt. In dieser Funktion wird sie unter anderem eine Mitverantwortung für den nächsten Weltkongress für Umweltgeschichte haben, der 2019 stattfinden wird.
Netzwerk Umweltgeschichte Österreich/Environmental History Cluster Austria: Am 21. März 2016 trafen sich in Salzburg umwelthistorisch Forschende und haben das "Netzwerk Umweltgeschichte Österreich/Environmental History Cluster Austria" aus der Taufe gehoben. Dieses Netzwerk soll helfen, die wissenschaftliche Kommunikation zwischen Forscherinnen und Forschern zur Umweltgeschichte in Österreich zu vertiefen und Kooperationen zu erleichtern. Eine Website ist bereits online (www.ehca.at). Die Institutionalisierung des Netzwerks als Verein ist beabsichtigt.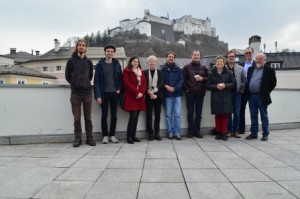 Out now
Martin Knoll/Uwe Lübken/Dieter Schott (Hg.), Rivers Lost, Rivers Regained. Rethinking City-River-Relations (History of the Urban Environment Series), Pittsburgh 2017.
Christoph Bernhardt, Im Spiegel des Wassers. Eine transnationale Umweltgeschichte (Umwelthistorische Forschungen 5), Köln/Weimar/Wien 2016.
Bernd Herrmann, Umweltgeschichte. Eine Einführung in Grundbegriffe, 2. überarbeitete Auflage, Berlin/Heidelberg: 2016.
Neue Open-Access-Reihe: Materialien zur Umweltgeschichte Österreichs.
Mathias Jungwirth, Gertrud Haidvogl, Severin Hohensinner, Herwig Waidbacher, Gerald Zauner: Österreichs Donau. Landschaft – Fisch – Geschichte (auch als gratis download).
Newsletter
ESEH Regional Representative German Speaking Countries Newsletter 20160414