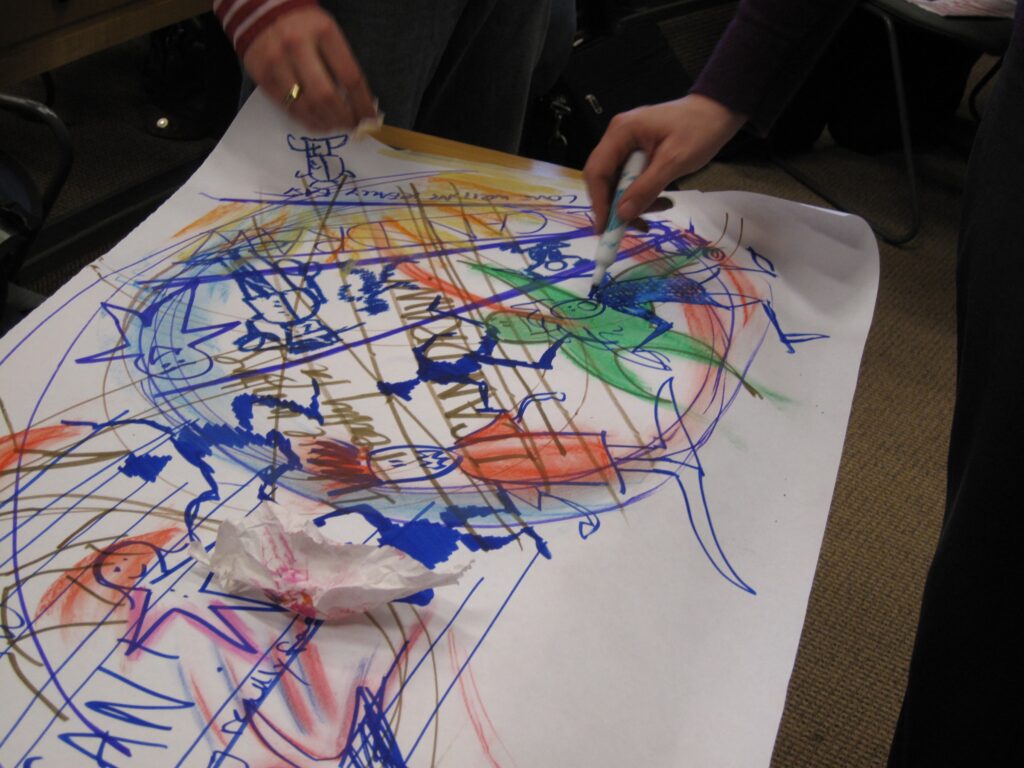 This post by Roberta Biasillo and Marco Armiero is part of a series on Sustainable Academia—in cooperation with Historians for Future—in which contributors reflect on the conditions of historians in Europe and beyond (especially those in early career stages), introduce visions for the field, and suggest concrete action in order to build more inclusive and supportive academic environments.

This blog post aims to open a discussion on power structures behind research assistant positions and implications for research projects and methods.
---
Reflection #1 – by Roberta Biasillo
This reflection stems from space and time constraints, methodological hurdles, and lack of linguistic skills that I have experienced as an academic expat in several countries and as a European scholar adopting a global environmental history approach. Under these circumstances, I have often wondered how to overcome the limits of my life and research path and to maximise the outcome in terms of research quality and ethics. What if—and it is a more-than-real if—I could pay someone to go to archives and libraries, collect and digitise files, and translate major scholarly contributions and primary sources for me? In short, what if I could hire a research assistant? Certainly this would be the easiest way out, although—and this is my very personal stance on this matter—I would not feel comfortable in pursuing this idea.
Time and space are two essential components of my working conditions. Research requires time: time to travel, time to browse repositories and collection guides, time to go through records and consider which ones are relevant. If I do not feel that I have this time, I may be experiencing an unsustainable workload and high pressure to fit abstract standards; I may be suffering from the publish-or-perish syndrome; I have just a different idea of my job than the information contained in my job contract. The same goes for space: research requires moving from the place where I am based to the place of a specific archives, and this tends to become more of an issue when my topic goes global. I think of my engagement with the archives more like a fieldwork than visits and what I gain from my "archival fieldwork" is a deeper understanding of the context and magnitude (in the eye of archival producers) of issues under investigation. Not searching for records ourselves means that I run the risk of disregarding relevant pieces of information about the context of my research that only the materiality of archives convey. The position of a record in a folder; the amount of records produced on a specific matter in relation to the rest of records produced by the same institution or related institutions; the internal connections between matters that I cannot think as connected before opening several archival boxes: these aspects are accessible only to me when I am in front of physical boxes and see the records.
Involving an assistant may also be to access sources or places I would not be able to understand or visit for various reasons. This is a growing trend in history and links to the acknowledgment of my Eurocentric and Western biases, being mostly exposed to scholarship produced by scholars with European backgrounds. Thus, to make my (mostly individual) research projects less colonial and more inclusive—and this is the case of colonial, global, world, transnational history projects—, the cheap way out would seem to be to hire research assistants. If specific expertise or local knowledge is crucial, to what extent is it fair to rely on an assistant and to what extend should I aim for peer-to-peer collaboration? Wouldn't collaboration and co-authorship be the most sustainable approach to enhancing historical reconstructions of complex pasts?
Reflection #2 – by Marco Armiero
It is happening. We all have seen this. In an academia where research is strongly driven by external grants, many times we see calls for PhD or postdoctoral positions that are extremely precise, detailed, someone might say narrow. And I am speaking, however, neither of the unpleasant situations common in some academic contexts when positions are basically tailored to the very skills and expertise of those who are supposed to get it; nor of funding schemes that ask for the list of the potential team at application stage. I am rather referring to the unpleasant but very common tension between the need to have well defined research proposals – with all the case-studies and work-packages listed and described – and the objective to train independent researchers.
I generally do not praise my PhD education and I am aware of its limits. Although, when I was a PhD candidate part of the selection process was to evaluate my capacity to come up with an original and realistic research project. Today, our PhD students and also postdocs are often hired within specific research projects with detailed tasks and an already set research agenda, including research questions to be answered. Where will they find the space for creativity, failure-in-progress, independent thinking, and exploration? I am well aware that in the due course even a well-engineered project could shift its trajectory and show some flexibility, expanding the PhD students' and postdocs' possibilities to explore and research widely. Nonetheless, this is not a given, and flexibility often clashes with the anxiety to deliver what was promised in the all-planned research proposals.
The bright side of the story might be a new, more collective approach to historical work; it is fair to say that independence has often meant individual, almost isolated work. Is there a way to save the beauty of working collectively and the power to be fully in charge of your own research agenda? Can we think of complementary work, which contributes to a common objective, instead of ancillary work for someone else's project? These are not easy questions under the general circumstances under which academics work. We might give the wrong answers but what we must not do is pretend that those problems do not exist. Perhaps by questioning this growing trend, looking for answers, and acknowledging the contradictions, we are already building new types of relationships in academia. Because power matters not only in research themes we are exploring but also in the very ways in which research is conducted.
Defining the boundaries of research assistant positions
Our conclusions are two-fold, just the way in which we have addressed the issue of assistance in academic research has been two-fold. On the one hand, we do not condemn the practice of hiring research assistants per se but we problematise certain uses of this job position based on own experience and positions. If research assistance remains confined within the borders of punctual tasks and does not replace one or more researchers, if it is a way to open academia to non-academic figures and outputs, if it offers a clear training opportunity for PhDs-to-be, we are not against including research assistants in our research units. On a related note, research conditions differ from country to country, from funding scheme to funding scheme, from institution to institution.
On the other hand, the distinction between assistance and cooperation should be more clear and less hierarchical. We find it unfair that highly qualified colleagues are denied the freedom of developing a personalised research idea within a given project; we find it unfair to disregard the limits of skills that human beings can develop and the constraints that working conditions impose on us by draining someone else's crucial abilities without properly acknowledging them. Starting to rethink the design of project proposals, providing PhD and postdoctoral researchers the possibility to come up with a line of inquiry that matters to them, it is something worthy of consideration.